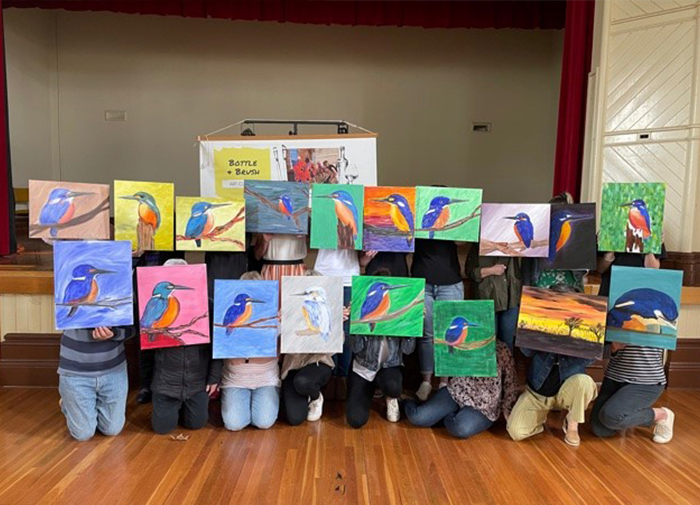 Mission statement
Rochester Community House Inc acknowledges and responds to community needs by maximising participation through access to personal development in a welcoming and supportive environment
Supported by
---
History
A steering committee was formed in 2002, by the end of 2003 we were up and running under the guidance of Echuca Neighbourhood House.  We were located at 30 Mackay St in a small flat next to the Kinder.
In May 2005 we moved into 71A Mackay St, a building purchased by the Shire of Campaspe to become our new home.  With strong advocating from the Committee of Management and volunteers funding for a coordinator was finally achieved in 2007, for just 10 hours per week. 
By March 2007 the building was running complete with a Men's Shed out the back.  The shed operated two days a week and bought together retiree's and blokes wanting to still be part of the community.
During 2010 our coordination funding was increased to 15 hours per week.
January 2011 saw the township of Rochester hit with the largest recorded flood in history, this saw an enormous change in how the community valued us.  Retired Local Member for Parliament Paul Weller MP was quoted in saying "This organisation exemplifies the terrific work done by Neighbourhood Houses across the state & demonstrates the value of Neighbourhood Houses as important community assets"
June 2011 saw our new purpose built men's shed located at REDHS (Rochester & Elmore District Health Service) officially opened.  It is now operating 5 days a week with one of those days dedicated to residents of the Hostel & Nursing Home.
December 2011 saw us start to move into our new current home located at 43 Mackay St, creating a hub with the local shire service centre & library.
In late 2014 we were offered minimum funding of 20 hours per week.  June 2016 sees us having two staff funded for a total of 32 hours per week, and opened to the public for 28 hours every week.
Funding
The Rochester Community House is funded by;
Department of Health & Human Services
And supported by; Shire of Campaspe
Committee of Management
Rochester Community House is governed by a committee of management consisting of up to 11 members of the local community.  The Committee of Management is responsible for ensuring that the house remains responsive and accessible for the community.  Membership is open to anyone at a cost of $5.00 per annum.
Our Programs
Term 1 2018
Below is a download list of what we have to offer this term:
Term 2 2018
Below is a download list of what we have to offer this term:
Download pdf
Term 3 2018
Below is a download list of what we have to offer this term:
Download pdf
Term 4 2018
Below is a download list of what we have to offer this term:
Download pdf